The AAA is a high quality program offering high achieving Leuzinger students the AP classes to qualify them to earn the prestigious AP International Diploma. This academy provides students with a solid academic foundation and prepares them to be highly qualified for the universities of their choice. All AAA students receive an iPad for use at school and home.

The Environmental Careers Academy is a community of learners dedicated to preserving the environment and being agents of change through sustainable design. Students prepare for green careers through interpreting and analyzing environmental, political, and socioeconomic issues embedded within a supportive and integrated educational environment.

The Multimedia Careers Academy is a community of critical thinkers, problem-solvers, and technological artists. The students work and create collaboratively to progress individually, artistically, and academically.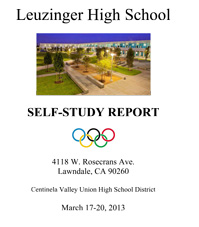 Leuzinger's WASC Self Study 2012-13